Vitamin D3(Cholecalciferol)Oily Form

Product name: Vitamin D3(Cholecalciferol)Oily Form
Popular name: Vitamin D3 oil
Chenical Name: 9,10-secocholesta-5,7,10(19)-trien-3-beta-ol
CAS : 67-97-0
Molecular formula: C27H44O
Formula weigh: 384.65(1999 international relative atomic mass)
Structure formula: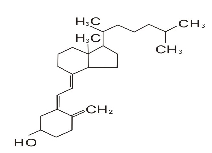 Properties: This product is yellow to brown, clear liquid,Almost insoluble in water,lightly soluble in ethanol,soluble in fat, part can occur solidification or crystallization phenomena at low temperature.

| | |
| --- | --- |
| Intem | Index |
| content(for C27H44Oaccount):The labeled amount(%) | 90~110 |
| Acid value | ≤2.0 |
| Peroxide value,meq/kg | ≤20.0 |
Uses: Vitamin D3 Oil Feed Grade is used for spray drying of feed grade vitamin D3 powder,AD3 powder and vitamin premixes.
Package: 25Kgs per barrel
Storage: This product should be kept in the place where is ventilated, dry, no pollution, no hazardous substances,Closed, swollen, dark,use the contents of opened packages as soon as possible, any unused part is to be protected by an atmosphere of nitrogen.
Period of validity: Under specified storage conditions and in case of original packaging without opening,the shelf life is 12 months.